Steamed Sausage
Here is a Sample Recipe from Conchy Joe's Collection!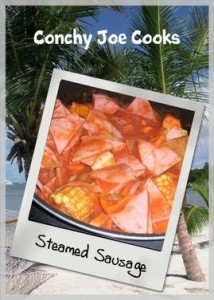 This is the cover of the recipe card in the collection. You can send this 3 panel card to yourself or anyone you like, in the mail, first class stamp!
___________________________________________________
One of my favorite recipes from this collection is the Steamed Collection.
Basically a steamed recipe is your choice of meat cooked in a red sauce.  Here is the recipe for Steamed Sausage, or bologna if you are stateside!
_______________________________________________________
2 lb thick sliced bologna or slab from deli cut into bite sized chunks
1 large onion
1 large sweet pepper
2 sticks celery
4 Cloves garlic crushed and chopped fine
Chop veggies into large chunks and sauté in 1 tbsp olive oil until translucent
add several branches of thyme
add bologna and lightly brown
(Picture on front does not have all the liquids added)
3 15 oz cans of tomato sauce
5 cans of water
2/3 cup lime juice
1 tbsp Mrs dash
1 tbsp lemon pepper
1 tbsp season all
1 tbsp garlic salt
1 tbsp Hot Sauce of your choice
2 tbsp Worcestershire sauce
1 tbsp prepared mustard
1-2 regular carrots chopped
3 Med. red potatoes not peeled
1 med. sweet potato peeled and cut into chunks
2 ears of corn cut into 1 1/2 inch sections
bring to a medium boil until the red potatoes are done (cut with the pot spoon)
Serve over white rice or grits
or in a big bowl with crusty bread
Remember with this recipe you can add a meat of your choice. I love chicken and browned porkchops is amazing too!
This is only the basic recipe,
To get the full collection with photos and more detailed information…
What is this Recipe Collection?